Last night I finally got the
"Have Yourself a Quilty Little Christmas"
section done. This is actually the center of the quilt that Lori Holt designed, however, as my followers know, I don't exactly "do" small quilts. Thus, this is the first section...
I absolutely LOVE it. I've done all the wreath blocks for the entire quilt and now that I know the size, I've been able to decide how I want to enlarge it. So I'm literally back to square one with the house blocks and will hopefully be able to attack those tonight.
Bonnie Hunter from Quiltville
puts out clue #2 for her Grand Illusion mystery tomorrow, so that will be my focus over the weekend. Here is a pic of my units for clue #1...
There is still plenty of time to join in!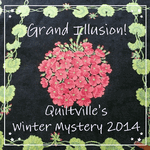 So what are y'all up to? Come join in the linky party at
My Quilt Infatuation
for some awesome inspiration.